Tax Resolution Services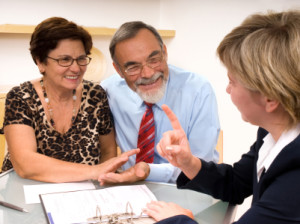 No two back taxes problems are the same, which means their tax resolution approaches should be different, too. When it comes to back taxes help, there is no single magic answer or cookie-cutter solution: depending on the specific details of your case, certain options may be more appropriate than others for your back tax relief plan. At The Levy Group of Tax Professionals, we approach each customer with a fresh slate, and we'll work hard to help you get the best tax resolution answers for your unique case. Our tax lawyers and enrolled agents in Cleveland are here to help you eliminate your state or IRS back taxes in the most efficient, hassle-free way possible. To get started with your free estimate, contact us today.
One size does not fit all when it comes to tax resolution! The Levy Group of Tax Professionals of Cleveland has many tools and tactics available to help you resolve your back taxes, and the great news is that the IRS is willing to work with most taxpayers to come to a mutually beneficial solution. It can feel like the IRS is out to get you, but our professionals know how to work within the system to help you take advantage of tax laws to work in your favor. Let us help you get the best outcomes when it comes to paying back taxes! The tax attorney team at The Levy Group of Tax Professionals can help you with:
Offers in Compromise
An offer in compromise is a settlement between the IRS and a taxpayer that resolves a tax debt for less than the amount owed. In short, this is a negotiation that The Levy Group of Tax Professionals can facilitate between you and the IRS to completely settle your IRS back taxes for less than the full amount you currently owe. The Internal Revenue Service accepts offers in compromise only under three circumstances:
Doubt regarding the taxpayer's liability for the taxes owed
Doubts regarding the collectibility of the tax debt (i.e. the IRS does not believe they will ever be able to collect the full amount of back taxes owed due to the size of the debt in relation to the taxpayer's income and assets)
Exceptional circumstances (including evidence that collecting the debt would cause economic hardship or would be otherwise unfair)
Installment Agreements
If you cannot afford to pay off your tax debt in full at this time, The Levy Group of Tax Professionals can help you set up an installment agreement. This option enables you to pay off your IRS back taxes over time. It's always best to pay as much as you can as soon as you can in order to minimize interest and avoid penalties, so our CPAs can work with you to determine the best options for your payment plan. Our goal is to make it as easy as possible for you when you're paying back taxes and to help you pay as little as possible to return to a good standing with the tax authorities. For more information, contact our tax attorneys today.
Penalty Abatement
When you don't pay your taxes, your back taxes can generate hefty fines as well as interest. In fact, these penalties can build up to a maximum of nearly 50% of the total tax owed. And that's on top of the interest the IRS can charge on unpaid taxes, typically about 4% per year. But the good news is that the IRS realizes that sometimes people have legitimate reasons for not paying their taxes, and these penalties can be removed or greatly reduced. The tax attorneys and CPAs at The Levy Group of Tax Professionals of Cleveland know tax laws inside and out, and, depending on your back tax situation, we can help you qualify for penalty abatement. The IRS requires "reasonable cause" for late or non-payment of taxes, and our team can help you submit the evidence required for penalty abatement. Reasonable cause can include death of a close family member, unavoidable absence (prison, rehab, etc.), destruction of tax records (due to fire, flood, or disaster), and others. Penalty abatement is handled on a case-by-case basis, so it's important to present your case in the best manner possible. At The Levy Group of Tax Professionals, back taxes help has been our business for more than 25 years, so you can rely on our team for the best tax resolution and penalty abatement services around.
Property Lien Releases or Withdrawals
If your back taxes problems persist, the IRS can place a lien on your assets, like your home or business, to make certain the debt will be paid. Not only do property liens mean that the IRS has a claim against your property, they also make it extremely difficult to get a loan, a new credit card, and even approval for a mortgage. However, The Levy Group of Tax Professionals can help you come to a settlement with the tax authorities that results in the release or withdrawal of the lien. Let our enrolled agents and tax attorneys in Cleveland provide you with the back tax help required to settle your debts and get the stress and complications of an IRS lien out of your life!
Bank Levy Releases
The IRS can also seize money from your bank accounts to satisfy the tax debts you owe them. In this process, the tax authorities will notify your bank, which will then freeze your account for 21 days. At that point, the IRS may withdraw sufficient funds to cover your owed back taxes, penalties, and interest. Unfortunately, once the tax officials have seized your money, it's virtually impossible to get it back, so if you've been notified that a levy has been placed on your bank account, act now. The Levy Group of Tax Professionals can help you settle with the IRS and get the bank levy released. This lets you resolve your back taxes debt on terms that you have a say in, rather than the Internal Revenue Service simply taking money out of your bank accounts, helping make the financial burden more manageable for you.
Innocent Spouse Relief
When you choose to file your tax returns jointly with your spouse, both of you become equally liable for ALL of the taxes, interest, and penalties from that particular year. For example, that means the tax authorities can go after one party for the entire tax amount owed, even if you are now divorced! However, the IRS realizes that there are cases in which it would be unfair to hold one spouse entirely responsible for the couple's total tax debt, and thus created the innocent spouse relief option. The Levy Group of Tax Professionals of Cleveland can help you file for innocent spouse relief, and even help you determine which type of innocent spouse relief you qualify for. There are three different kinds:
Classic innocent spouse relief—can fully relieve one spouse's responsibility for paying any of the understatement of taxes owed
Separation of liability—can reallocate the understatement of taxes between the spouses (or ex-spouses) based on how much each party is responsible for
IRS equitable relief—even if you do not qualify for either of the previous types of innocent spouse relief, this can relieve you of some of your tax liability if the IRS determines it would be unfair to hold you liable
Wage Garnishment Relief
The IRS is legally allowed to deduct money from your paycheck in order to collect on back taxes. This is called wage garnishment (or a wage levy), and while it is legal, we understand that it can create problems for your personal finances. At The Levy Group of Tax Professionals, we can help you stop the wage garnishment by releasing the levy through an offer in compromise, payment plan, or other back tax resolution option. Our professional tax lawyers can also help you present evidence that the wage garnishment causes financial hardship as a way to end this particular type of levy.
When you need back tax relief, The Levy Group of Tax Professionals will put our 22 years of experience to work to bring you effective back tax help and resolution services. For your peace of mind and the end to IRS back taxes problems, call now!
tax resolution
tax settlement
tax penalty abatements